Status Update, February 2022
Published on Feb 14, 2022 (updated 2022-06-15)
View history or download markdown
Categories: #Status Update
Hello! It's been an Interesting Month. Here's what i've been up to.
Site activities
I have moved this site from WordPress back to Hugo, although i've started a fresh repo, which is public1. My first domain (earnestma.xyz) started off as a Hugo site, and I've been using Hugo for a ton of sites ever since.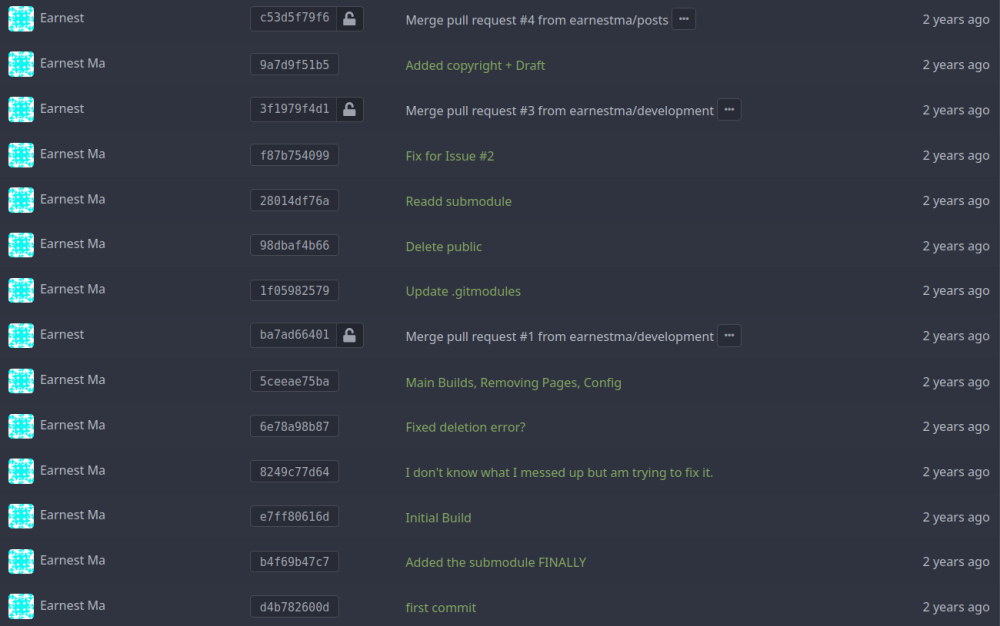 A screenshot of the first few commits to earnestma.xyz's site. This was my first time at "programming" and using git, as you can see, i knew what i was doing 🤣
i have some minor features and support for gemini (possibly) that i'd like to add in at some point.
Fediverse
I have moved from the envs.net Pleroma back to my account at the tech.lgbt Mastodon instance (@earnestma@tech.lgbt). This was for a few reasons, this being one of them, the local community, and also the fact that mobile apps are better on iOS for Mastodon. It's been a great experience so far and i am tooting more than before!
Programming projects
Other than my site, i'm working on a personal few things. Last month i made a terminal sort-of Wordle clone, and i'm slowly working on earne.link, which might be a pastebin, link shortener, and file sharing service. Very slowly though 😁 the current "stack" is just Flask.
Also, i got an idea from fedi to make a Mastodon clean your glasses reminder bot. We'll see if i have some time to try and work on that.
Lastly, i've been trying to get some programs i frequently use packaged, here's an attempt.
Books
February has been a more stressful month, and i haven't read as much. At the moment i have four books checked out from the library; unless i renew them they are due in about a week (~halfway through one).
Book releases i have my eye on
This month's random favourites
As always, you can follow me on BookWyrm!
Personal
I turned 18 in January!1!! Doesn't feel like it lmao
Speaking of Wordle, a few days ago i caved in and started playing it. it's been fun! you can look at my progress here.
2 weeks ago, I got my COVID-19 booster. Please consider getting yours if possible and necessary!
In January, i started my last semester of high school. Of course, last October, i applied to some universities in Ontario (all for computer science). i have an acceptance from one of those (probably my first/ second choice, hard to answer), and waiting for the others.
Also, back in October, i got my G1 license. i've been sorta driving short distances in the past month and not doing too bad at it. been honked at counter: 2
Notes
Throughout the past 2 years I've flip-flopped on my notes: where to put them, the app to use, private or public? The current experiment is Obsidian and Quartz for publishing. It's going well, and you can view the results here: (site no longer available)
To-do this month
Some random things that should get done!
Self-host Tandoor. It's extremely likely that I will be living on my own in a few months, and it seems useful!
Aim to get 7 hours of sleep (current average is 6.5)
Do something fun before February ends
Look into a new laptop? Tycho's battery has never been super (which will become important), andddd it's starting to fall apart
For March break, I may have some fun experimenting with installing Gentoo on a spare laptop
Continuing to prepare for my Level 6 Piano RCM exam (still no date decided upon yet, but hopefully soon)
Media
Music
The Spotify playlist i've been listening to recently.
Games
Freeways is pretty fun, i'd also like to pick up Subnautica again at some point. Apparently it works on Linux!2
This was a slightly longer post as it covered both January and February. See you in about a month!
---
I started playing when still using Windows, and a hard drive connector to my laptop broke. ↩︎
---
If you enjoyed reading this post, please consider supporting me 💜