Status Update, April 2022
Published on Apr 18, 2022 (updated 2023-09-07)
Categories: Status Update
Here's the status update for the month, sorry it's late! Also, happy Easter Monday and Nonbinary Parents Day. 💛🤍💜🖤
Before we start, here are some links:
Here's a good Twitter thread on why "just staying home" for chronically ill/ disabled people doesn't work.
On living with corona (EDIT: tweet no longer available)
And, given all the Happenings with Twitter, you may want to consider using Mastodon if you aren't already! Here's a pretty good guide if you're interested in learning more.
New laptop
My old Asus laptop has had its hinge break, and while that was repaired, I still wanted a slightly smaller laptop with better performance and battery life, especially once I start university in person. So, after a while of looking I ended up getting the 2020 M1 MacBook Air! It's been great so far. I've had an iPhone/ Watch for a few months and an iPad for even longer, so the transition wasn't too bad, and even most of my dotfiles work fine. I'll likely write a small blog post on some useful apps and tweaks at some point.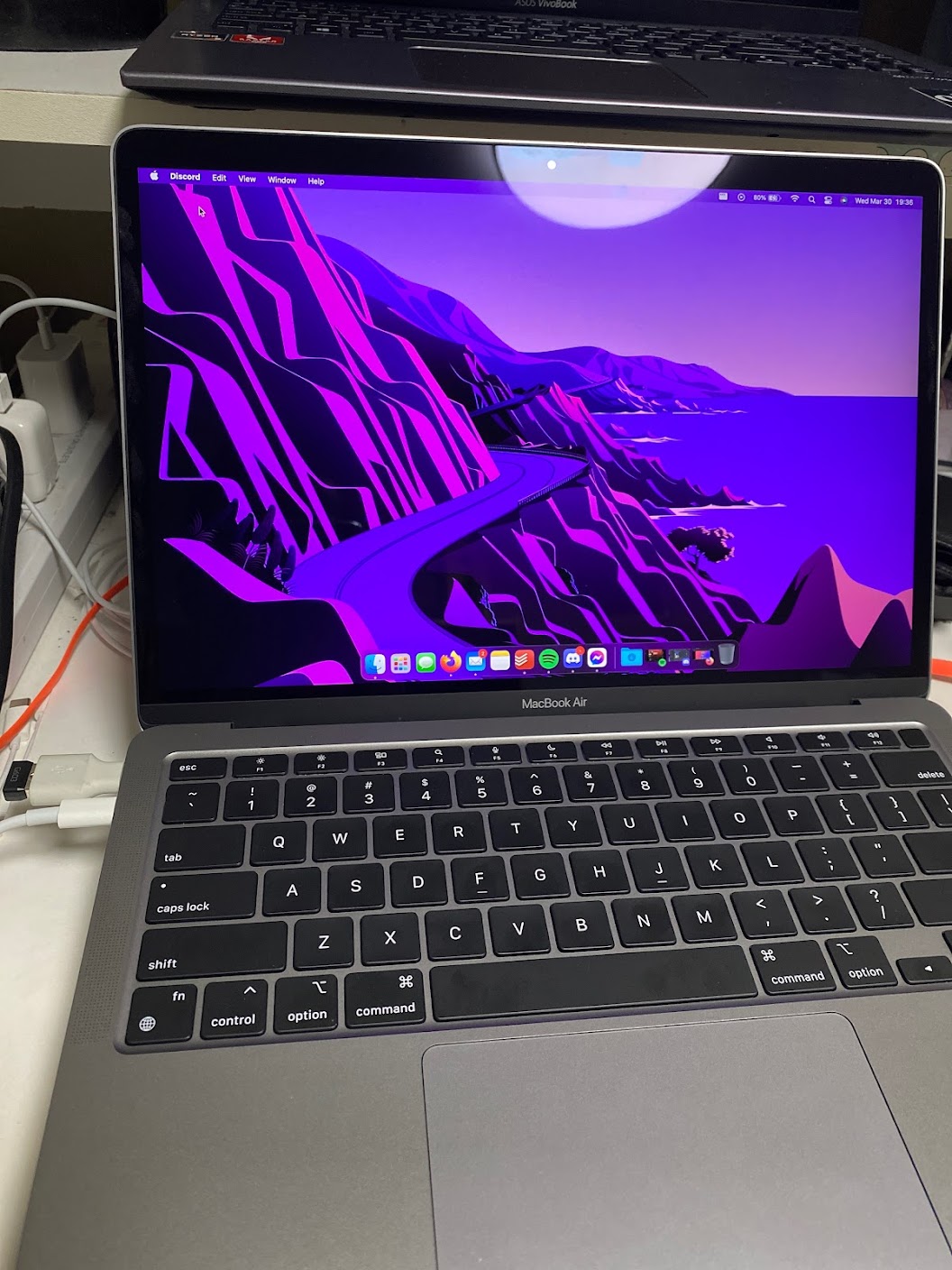 Site
There have been no new posts on this blog. My tracker of new books releasing has been moved to notes. Notes has also gotten an update to Quartz 3.2!
earne.link Services
Over the long weekend, I've migrated (or deprecated certain) earne.link services to 2 new servers (+1 laptop at home), using an Ansible Playbook and docker-compose. This is to make things easier to maintain and have backups of. Please let me know if you run into any issues!
I'll also set up a landing page/ blog for earne.link, and I'll simply put related updates there from now on once that's done.
Life
In terms of coding stuff, I've continued working through some Project Euler questions. Trying also to learn enough Python/ SQLite/ Flask to make a webapp, lol. Future projects include cobbling together a file/ pastebin and a blogging engine, which may eventually replace this Hugo site.
Now for the university updates… In Mid-March I got an alternate offer to U of T St. George (the downtown campus) for Studies in Mathematical/ Physical Sciences. From that program it might be possible to transfer into CS for my second year. Still waiting on the Scarborough and Missisauga campuses. OSAP applications have also opened, and I am filling out lots of forms for that. Advice of any kind is welcome, of course :)
Productivity
Resubscribing to Todoist Pro and getting everything set up has helped me a bit :) I will probably write a blog post at some point of my setup. Still journaling on paper in my Hobonichi Techo Cousin, although sometimes I miss a day or two.
Picked up learning Dutch again through Duolingo, and I am currently at a 38 day streak!
Music
With a new quarter comes a new playlist of my favourites:
Thank you for reading!
Have a great rest of your April 💜
---
If you enjoyed reading this post, please consider supporting me 💜